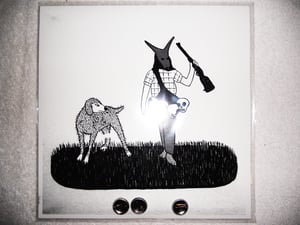 $

20.00
HUNTER182 by CLOUD.
Limited edition SURVIVAL PACK includes the following:
*Monochromatic silkscreened front cover
*Individually handstyled back cover in full metal paint
*Double-sided liner insert with full metal paint signature
*HUNTER182 virgin vinyl LP with handstyled labels in full metal paint
*1 GUNNIN PIN with silver tint and rim authentication
*2 OVERPRINT PINS with rim authentication
Paint designs are unique to each pack. Only 100 sets produced.